Subject: Soror Chavin Rucker -Miss Black Ohio USA 2006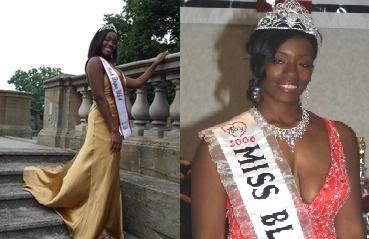 Congratulations are in order to our dear Soror Chavin M. Rucker, MISS BLACK OHIO USA 2006! She won the title at the state competition on August 6, 2006 and was also selected as MISS BLACK DAYTON USA at the Dayton preliminary pageant on June 3, 2006. Soror Rucker was made by the way of ETA PSI CHAPTER, Ohio University, Athens, OH , so you know she is polished, poised and totally put together!
Please feel free to visit her website at
www.chavinrucker.zoomshare.com
.
During our 51st Boule hosted in the Dallas metroplex, SGRho had the priveledge to induct, Singer/Songtress, Grammy-nominated, Kelly Price into our beloved Sisterhood, July 2006. Also inducted were very distinguished ladies Annie Howser-Bragg, & Dawn Martiness
The city of Dallas whole-heartedly welcomed the Women of Sigma Gamma Rho Sorority, Inc. as we held our 51st Boule in the Lone Star State, Texas!!!
Here are a few pics:
Check out Soror Mother Love repRHOsenting in Cincinnati!
Hattie McDaniel Stamp Day
Sorors from the Dallas area all join the event hosted by the Irving Black Council for the Unveiling of Soror Hattie McDaniel for the Black Heritage stamp year 2006.
In more than 3 city-wide areas, February 18th, has been proclaimed: Hattie McDaniel day.

Soror Portia Maultsby
- Iota Omega Sigma Chapter, Bloomington, IN, for publishing her book entitled, "African American Music: An Introduction," (Routledge, 2006).
http://newsinfo.iu.edu/news/page/normal/2778.html
Soror Ramona January - Rho Sigma Chapter, Detroit, MI for being selected as a participant in the Steve Harvey 'Brand New You Weight Loss Challenge.' Vote for Soror January
here
!
Soror Donnie Belcher - Xi Lambda Chapter, featured as an Outstanding Undergraduate Soror in the Winter/Fall issue of The Aurora, has been chosen to be a guest speaker, alongside Rev. Jesse Jackson, at the Society of Leaders Emerging MLK Celebration.
Soror Tonya Willis - Iota Xi Sigma Chapter, South Bend, Indiana, for being appointed Assistant Youth Director for NIMBDA (Northern Indiana Missionary Baptist District Association).
State Representative Soror
Robin Kelly
- as she embarks on a bid for re-election as an Illinois State Representative.
Sorors W. Jeanine Daugherty, Bethel White, and Christina Bediako - for being elected President, Vice President, and Seargent at Arms of the
Chicago NPHC
.
Soror Delia Askew - Alpha Sigma Chapter, Indianapolis, IN for being featured in the
Indy Star alumni profile
.
Sorors Joi Bass & Veronique Turner - Eta Xi Sigma Chapter, for the launching of their e-zine,
Brown Skin Magazine
RE / MAX Supreme Properties Inc ., is proud to introduce a unique and exciting Corporate Partnership and Scholarship opportunity for the members , families & friends of Sigma Gamma Rho Sorority, Inc . So urce: http://www.supreme-properties.com/html/slide0001.htm
Boule 2004. MC Lyte is Inducted into Honorary Membership of Sigma Gamma Rho Sorority, Inc.
"It's been two months since my book has debuted and books are flying out of my hands. Everyone who lays their hands on my book loves it." In the summer of this year, 2004, Soror Andrea Hatter began promotions of her New book entitled, Lookin' In The Mirror. Check out her website at: http://www.amhatter.com

Tour Signing dates:

July 24th 1pm: AfroBooks/ Atlanta, GA, WestEnd Mall
Sept 20th : Tulsa Community College/ Tulsa, Oklahoma
Oct 12th 3pm: Howard University Bookstore/ D.C.
Subject: [InternationalSGRhos] Howard Soror makes history
Date: Tuesday, February 10, 2004
Howard does it again...An article submitted to the Indianapolis Star & News...
Indianapolis Native Makes History as Director of Louisiana Museum
Plaquemine, LA – Charlene Fletcher has worked in museums most of her life and has achieved her dream of becoming a museum director. She's only 22. Charlene has been named director of the Iberville Museum in Plaquemine, Louisiana, making her the youngest museum director in American history.
The Iberville Museum is a history museum located fifteen miles south of Baton Rouge. It is housed in the old city hall building, erected in 1848 by slave labor. The collection is comprised of artifacts dating to the early 1900's. Charlene is more that excited about her new position, but she's no newcomer to the field. She began working at the Children's Museum of Indianapolis as a youth volunteer at the age of 10. In high school she participated in the Community Connection program at the Indianapolis Museum of Art. She attended Howard University in Washington, D.C., studied history and education, and worked in various museums and school systems in the D.C. area. In addition to her new endeavor, Charlene is working on her own consulting firm specializing in museum education that she has named Lotus Cultural Consulting. She is also active in the community through Girl Scouts and Sigma Gamma Rho Sorority, Inc.
Charlene looks forward to the challenges ahead of her and contributes her success to the support of her family and mentors. "I truly cherish the support and guidance I've received in life. Now, it is my turn to offer those same opportunities to other young people."
Soror Charlene J. Fletcher International Member Sigma Gamma Rho Sorority, Inc. Baton Rouge, Louisiana 4 Shades of Distinction Spring 2002 Alpha Phi Chapter Howard University
Soror Anita Laster-Mays for being sworn in as a Municipal Court Judge for the City of Cleveland, Ohio on December 29 ,2003 Soror Tommie J. Kirkendoll, who is completing here first term as President of the Jackson (TN) Chapter of the Links, Inc.