Power of Woman
Artist: WAK
And so it was written:
God began his world with design and on each new creation he sealed it with a sign, for six days he labored and made woman: with elegance- Alpha Kappa Alpha , with fortitude- Delta Sigma Theta , and with boldness- Zeta Phi Beta .
He revealed that he was the Alpha and the Omega , the Beginning and the End and all that's in between-- the Kappas , the Iotas , and the Sigmas .
When he finished on the seventh day, he downed his last creation: his best design.
From the sky he grasped two gold stars for her eyes and from the rhoyal blue sea-ice cold blood pierced through her veins, and from every shore sand completed her perfect score. God thought 1922 the Epitome of Womanhood was finally through. With something more to do and no where else to go, he had finally made
Sigma Gamma Rho--Last Created, Best Designed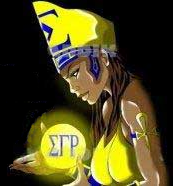 What's It All For?
Stop and tell me what do you see
Intelligent and strong, yeah that's me
Groomed from birth to be wise & bold
Made by GOD
And future foretold.
Grasping wisdom & knowledge to serve
And to teach
Mentor, mother, and sisterhood we breathe.
Moving mountain and snares, climbing higher and high
Another Sigma woman the world can't deny.
Reaching & rising to touch tall in its path; to make
Hopes and dreams a reality at last.
Opening doors that were closed and some
Slammed in the face.
Putting an end to the shame
Of once an illiterate race.
What's It All For? Greater Service, Greater Progress
~Soror Cheryl Jackson, Mu Zeta Chapter
Aurora Dawn


Basking In The Glow
Artist: WAK
We are women of the light,
royal in our bearing
golden in our worth.
Women reverenced in the Earth
Time has made us great.
God made us unique.
In love, in light, we display what it is to be blessed
The Royal Blue.
The Gold.
The Sigma Gamma Rho Soror.
The best.

~ Soror Terri Lyons

May the things that make me Sigma
Be the things that guide my day,
May the torch of dear Aurora
Light the path along my way.
May my life be so exemplary
That everyone will know
Just by my deeds, that I am
Apart of Sigma Gamma Rho.
-Soror Eleanor Richardson

Sigma Gamma Rho
Artist: Willie Nash

Her body He shaped from the most selective sands

With warmth in her heart and strength in her hands.

Into her, carefully, a special air He breathed.

A special understanding for all the world to see.

Into her veins, He pumped kindness and truth

Carefully nurtured and each day renewed.

A monument of pride, strength, and love.

Her presence is a light showing the path to go.

God created a special woman -- The woman of Sigma Gamma Rho !

~ Author Unknown


Soulful Flight
Artist: LaShun Beal

I AM DIVINE

Gently graceful, yet elusively powerful.
The blood of queens flows through my veins.
My ancestors ruled under royal blue skies and donned crowns of pure gold.
I am the living dream of my ancestors.
In the company of my sisters, I serve others selflessly.
The spirit of my founders guides me, their light shines within me ever so brightly.
I am the living dream of my founders.
Curious are the eyes who stare as I go, and it's no wonder,
I am a woman of Sigma Gamma Rho.

An Ideal Sigma


Sisterhood in Service
Artist: Soror Brenda Joysmith

A young lady who has a lot to offer,
No vulgarity or boastfulness is a part of her.
And who is willing to lead a hand
For Sigma, she'll always stand.
Sympathy is a part of her for the poor.
Never a stray she turns from her door.
To her, the love of God is a must
And in all she places some trust.
Sigma's Hymn she will sing with all her might
So that from its radiance others will see the light.
The pin, she will wear with a great deal of respect
But she's a Sigma-what can we expect?

~ Soror Mattie Lee Hollida


Out of a Crowd of Millions

Out of a crowd of millions, I will emerge to be.
I am destined to be the star of every galaxy.
And when I arrive all eyes are on me.
More distinguished than any other, I am a rarity.
I am the first encounter of every kind,
So ethereal, dominating, and refined.
Suave, sexy, strong, and unmistakably envied
By all those who desire to belong to me.
But my complexity is too intense to see.
Yet, even I am amazed b my own ability.
I am BAD from HEAD to TOE!
I am a woman of Sigma Gamma Rho.

~ Author Unknown
Sigma Gamma Rho - Specialty


Elegance
Artist: WAK
It takes a special kind of woman to be a Sigma
.
One who is graceful and filled with poise and dignity.
One who is strong in mind and sincere in heart.
One who is not sluggish or derogatory, but ambitious, zealous, and industrious.
One who is aware of self but who is not indifferent to others.
One who is willing sometimes to place the needs of others above those of her own.
One who reaches out and is not afraid to touch.
One who is willing to work for the community in order to better others, as well as herself.
One who is not easily discouraged and when the chips are down, her spirit remains high.
One who knows that real sisterhood is an everyday thing; and it should be spread not only throughout the Sorority, but throughout the community and the world.
It takes a special kind of woman to be a Sigma... A very special kind of woman.
For to be a Sigma is indeed something special.
The Sigma Woman


I Do
Artist: WAK
Her beauty is radiant and you can see it in her eyes
What is she? A Sigma Woman
The glory around her can not be hidden by a disguise
What is she? A Sigma Woman
She wears her colors like the royalty she is
What is she? A Sigma Woman
When she walks, guys heads turn and they want her to be his
What is she? A Sigma Woman
Inside she is very strong and knowledgeable too
What is she? A Sigma Woman
The talents she possess can be seen through and through
What is she? A Sigma Woman
She is the ultimate perfection for a woman to me and you
What is she? A Sigma Woman
A SIGMA GAMMA RHO WOMAN!
~ Soror Turkessa Solomon


The Sorority I Chose
Didn't look for a large sorority.
Didn't look for one that was well known.
Didn't look for colors,
When I chose one to call my own.
Didn't look for who was first.
Didn't care who organized was last.
Didn't care if they had a few members.
Didn't even really care about their past.
Didn't care who the Celebrity Sorors were,
Didn't matter if they had none at all.
Didn't care if they ruled the yard,
Didn't even care what was their call.
For when I chose Sigma Gamma Rho,
The Sorors were geniue and real.
That's what I wanted,
Sisters who would listen to me,
Sisters who are for real.
Sisters with joint goals in mind.
Sisters willing to stand for what's right.
Sisters willing to help their fellow man,
Sisters giving their all when things get tight..
Well it's been 27 years that I have been a member
Of Sigma Gamma Rho.
Through the good times, Through the bad,
I love you Sorors of Sigma Gamma Rho.
So if anyone should ask you,
About the Sorority that you chose,
Tell them about the good that we do,
Tell them to touch, see, and smell the Yellow Tea Rose.
Tell them and show them by your sisterly deeds.
Sigma Gamma Rho doesn't have to explain herself to anyone
Just let them look and they will see.
Sigma Gamma Rho was right for you,
And Yes Sigma Gamma Rho was right for me.

~ Soror Cherie R. Johnson


Why I Wanted To Be A Sigma

In today's world of chaos and doubt
There's a fine group of women
Who know what they're about;
Their aims and ideals soar towards the sky;
Their aspirations and high standards
This world can't defy-
That's why I wanted to be a SIGMA!

They march as shining beacons of light--
Soldiers of those virtues that ever endure;
Carrying torches that stand for the right--
Lighting pathways noble and pure.
Giving their service -- doing their best,
Eager for knowledge -- standing today's test.
That's why I wanted to be a SIGMA!

Their banner waves as they march along;
"Greater service -- Greater Progress" is seen.
Several hundred -- true and strong,
Filled with courage and intellect keen.
Shoulders erect and heads held high--
Their purity of ideals -- none can deny.
That's why I wanted to be a SIGMA!

Onward they march -- this courageous band;
Ever knowing there's more to do.
The finest women of our land
Firmly united in a sisterhood true.
Challenging women -- a fine group to know--
Progressing through service -- Sigma Gamma Rho!
That's why I wanted to be a SIGMA!

-Soror Fredda Witherspoon
By Soror Dionne Daisey Williford
" Oh Vivian dear, Come over here, My Goodness it's been a while" And Vivian thought, how nice it was to see Cubena smile. She felt as if she were walking in some strange and distant place, As Mary Lou and Bessie, Kissed her on her startled face. "Hey Viv' , you always were the last", joked Nannie from her chair. And then Hattie rose to greet her, "We've been watching you down there" And Dorothy with her perfect smile reached out to hold her too "We're happy that you're here with us…we've been waiting here for you, Hurry now, and look your best…to an induction we must go! You've joined our chapter once again, The great Omega Rho.." And Vivian looked at all of their faces, and she knew she was young once again. And a smile as bright as the brightest smile, she gave to her old friends. "I'm ready" she said. As they linked arms, and walked past the great golden wall, And joy filled her soul with every step,
As she answered the last Sigma Call.
More Art